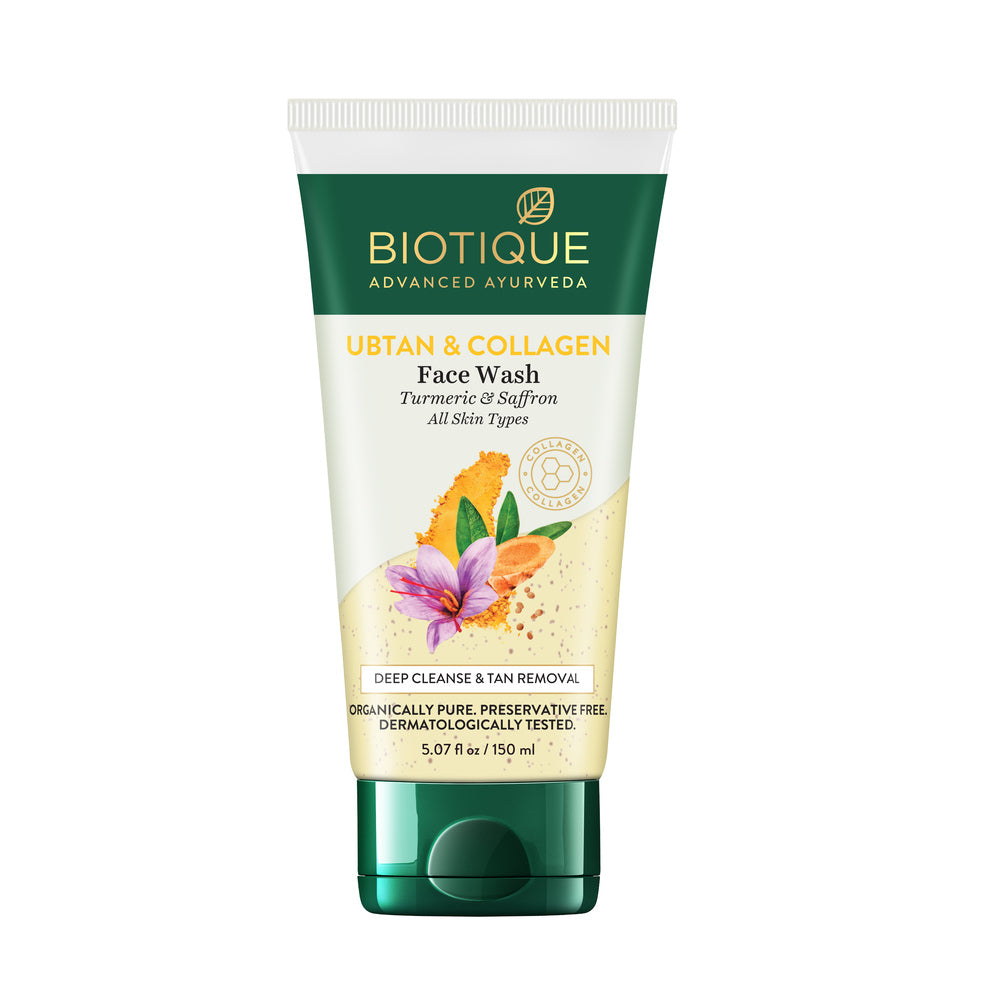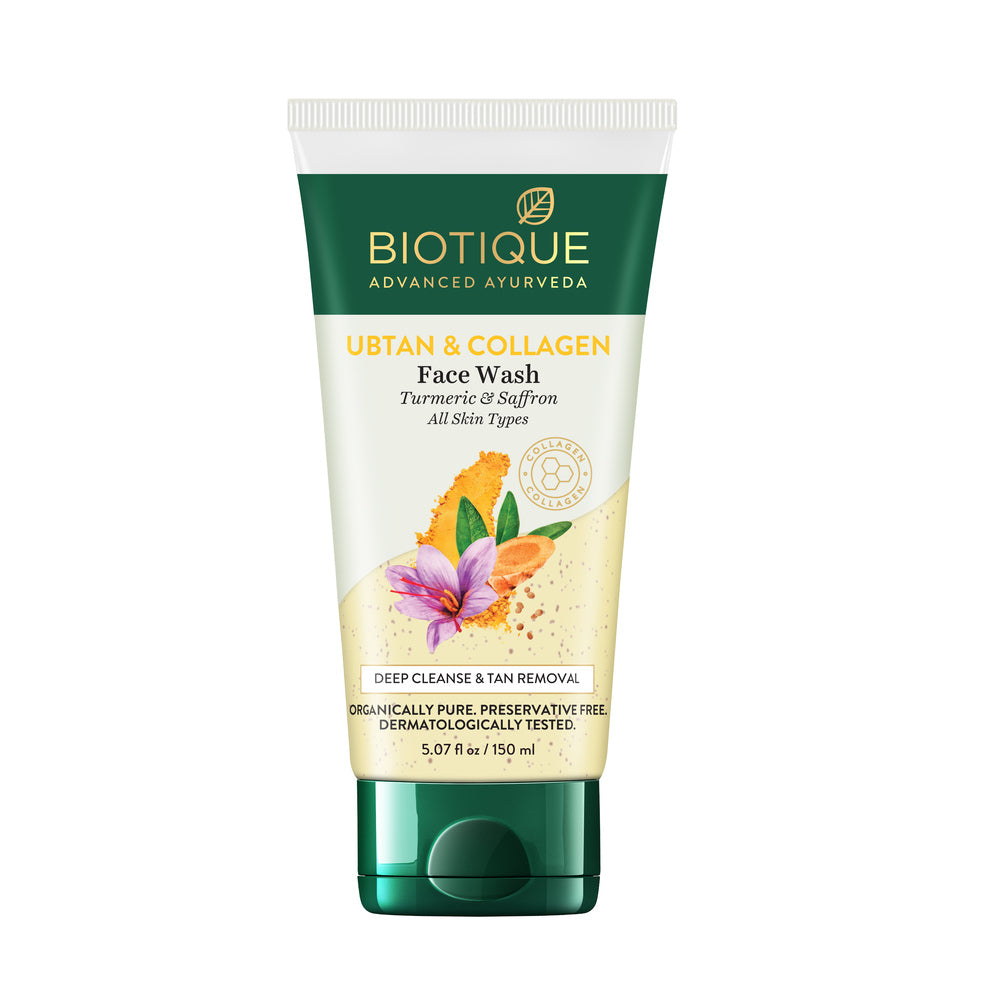 Biotique ubtan & collagen face wash 150ml
Benefit :
Brightening, removes tan, exfoliate dead skin cells
UBTAN is known for its extraordinary properties that helps in enhancing skin complexion. This deep cleansing face wash is blended with the goodness of turmeric, saffron & lentils. On regular use, helps gently exfoliate dead cells, removing the tan by uncovering skin's natural brightness. The Ubtan Face Wash helps lighten skin tone improving the skin complexion.
A revolutionary skincare product, the Biotique Ubtan & Collagen Face Wash combines the advantages of collagen with the goodness of traditional ubtan. This ground-breaking face cleanser draws inspiration from the age-old Ubtan tradition. Ubtan is recognized for helping to produce a bright and vibrant complexion and displaying a smoother, younger-looking appearance.
The best collagen face wash that gives the skincare routine a modern twist. Collagen, a crucial protein supports the structure and elasticity of skin. It contributes to a plump and more youthful-looking appearance by maintaining the firmness and suppleness of the skin. This inclusion is especially advantageous for promoting youthful skin because collagen production typically declines as we age.
To use, dispense a small amount of the face wash onto your wet palms and create a lather. Gently massage in circular motions to achieve thorough cleansing. Rinse off with water, then pat your skin dry to reveal a refreshed and revitalized complexion.
Suitable for every skin type, this Biotique Ubtan Face Wash can be incorporated into your regular skincare routine. Whether you're aiming to achieve a brighter complexion, maintain skin elasticity, or simply indulge in a revitalizing cleanse, the best face wash with collagen offers a harmonious blend of tradition and modernity, leaving your skin feeling renewed and radiant.
The ubtan face wash price demonstrates Biotique's strategy of offering affordable skincare products.

UBTAN:
TURMERIC:
SAFFRON:
Brightening
Removes Tan
Exfoliate dead skin cells
BIOTIQUE is based on 5000-year-old Ayurvedic recipes known to integrate and celebrate body, mind and spirit.
Biotique Helps
Your questions, answered.
How to use Biotique Ubtan & Collagen Face Wash?
Use your fingertips to gently massage your face and neck with this foaming face wash and then rinse. Do it every morning and evening.
What are the benefits of Biotique Ubtan & Collagen Face Wash?
Yes, you can use Biotique Ubtan & Collagen Face Wash everyday. The face wash's natural components help to soften skin.
How Often Can I use Biotique Ubtan & Collagen Face Wash?
You can use this face wash twice a day.
Is Biotique Ubtan & Collagen Face Wash good for all skin type ?
Yes, this Biotique Ubtan & Collagen Face Wash Face Wash is good for all types of skin.
Is Biotique Ubtan & Collagen Face Wash organic product ?
Yes, the Biotique Ubtan & Collagen Face Wash is 100% organic product.
What is the Biotique Ubtan & Collagen Face Wash price?
Biotique Ubtan & Collagen Face Wash is available for Rs. 375
Show us some
on social media