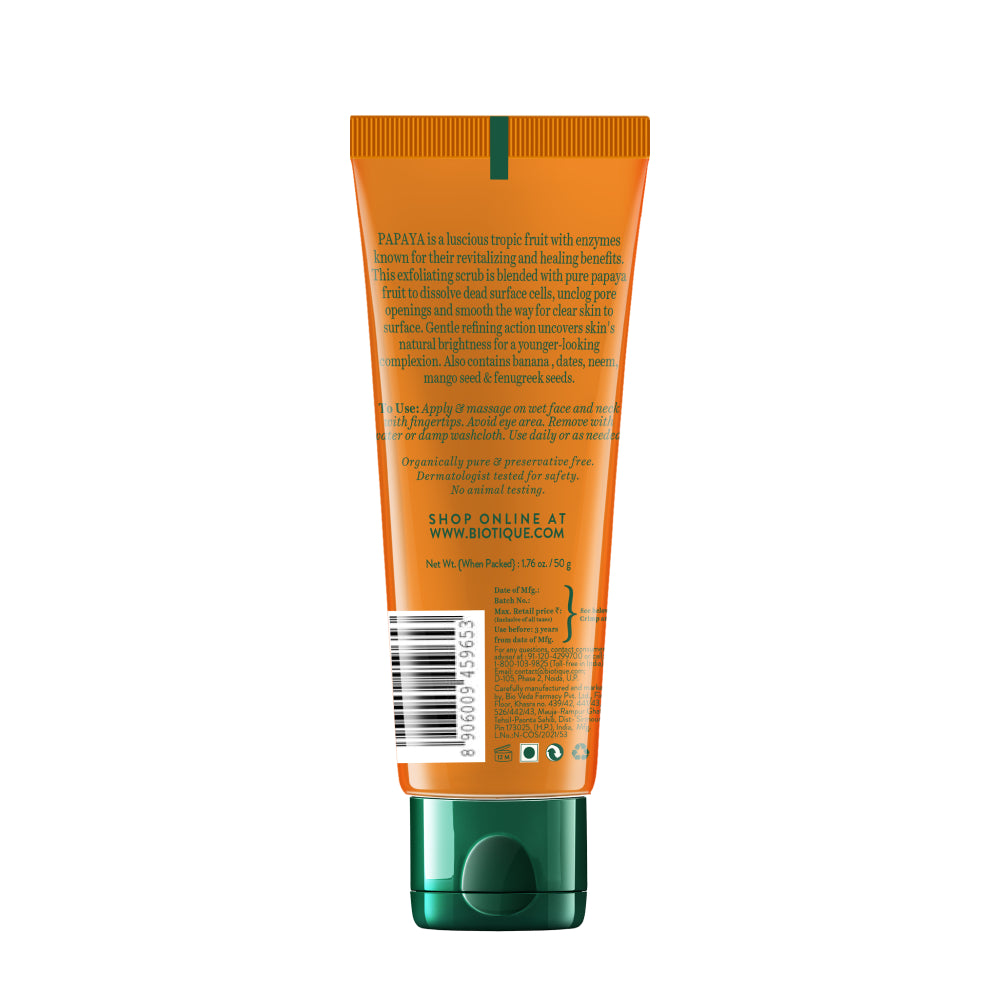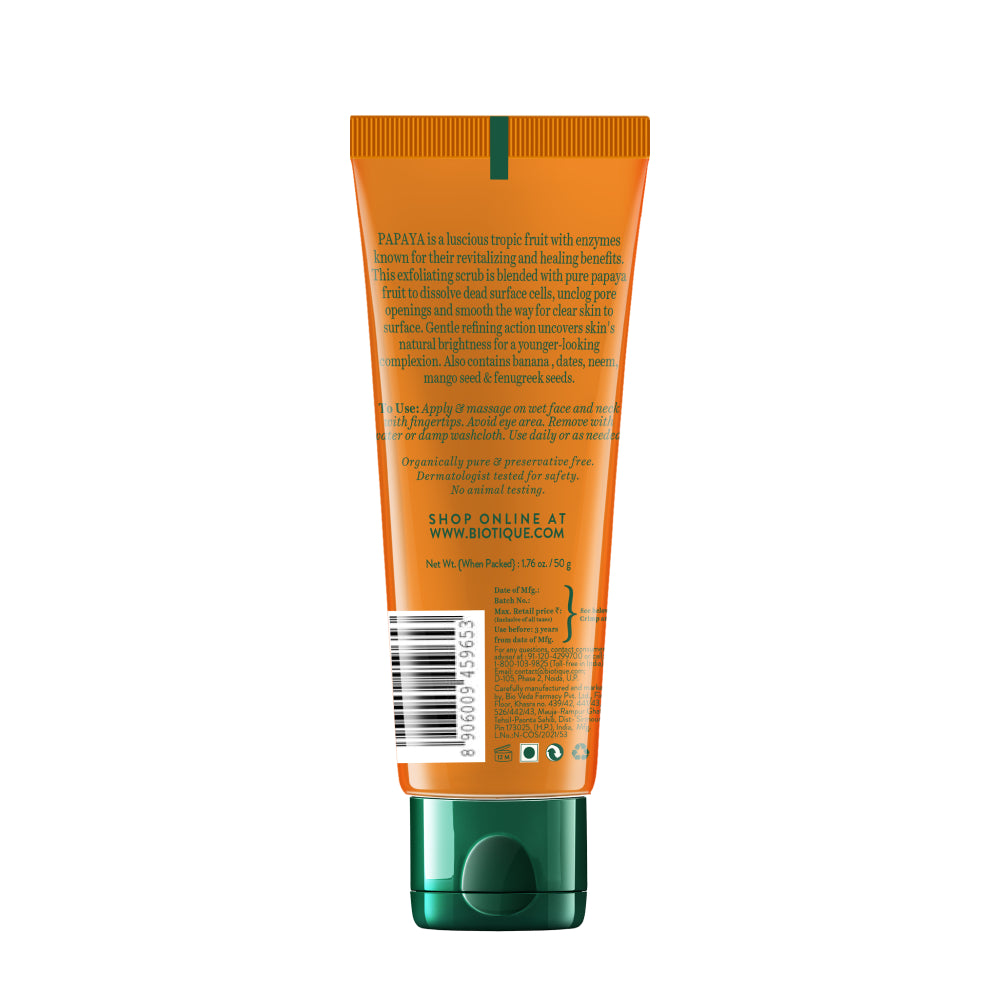 Papaya tan removal brightening & revitalizing face scrub
Benefit :
Tan removal, brightening, revitalizing
PAPAYA is a luscious tropic fruit with enzymes known for their revitalizing and healing benefits. This exfoliating scrub is blended with pure papaya fruit to dissolve dead surface cells, unclog pore openings and smooth the way for clear skin to surface. Gentle refining action uncovers skin's natural brightness for a younger-looking complexion. Also contains banana, dates, neem, mango seed & fenugreek seeds.
PAPAYA: Papaya is a luscious tropical fruit known for its rejuvenating and healing benefits. Full of vitamins, minerals and phytochemicals, papaya can act as a youth activator and natural exfoliator to revitalize skin without inflammation or irritation.
NEEM: Neem has been used in India since antiquity for its life-sustaining powers. Also known as the healing plant for its antiseptic, anti-fungal and anti-bacterial properties.
DATES: Dates are an excellent source of vitamin C and D which helps to maintain your skin elasticity and keeps your skin smooth. Dates also come with anti-ageing properties and prevent the accumulation of melanin.
Massage on wet face and neck with fingertips. Avoid eye area. Remove with water or damp washcloth.
Tan removal
Brightening
Revitalizing
BIOTIQUE is based on 5000-year-old Ayurvedic recipes known to integrate and celebrate body, mind and spirit.
Biotique Helps
Your questions, answered.
How to use Papaya Tan Removal Face Scrub?
Using fingertips, massage Papaya Tan Removal Face Scrub onto wet face and neck. Rinse off with water or a damp washcloth.
What are the benefits of Papaya Tan Removal Face Scrub?
Papaya Tan Removal Face Scrub helps unclog blocked pore openings, remove dead skin cells from the skin's surface, and promote clear skin.
How Often Can I use Papaya Tan Removal Face Scrub?
Two to three times a week is how frequently you should use the papaya tan removal face scrub. You can increase the dose up to three times per week if your skin is especially greasy.
Is Papaya Tan Removal Face Scrub good for all skin type ?
Papaya Tan Removal Face Scrub is suitable for all skin types.
Is Papaya Tan Removal Face Scrub organic product ?
Papaya Tan Removal Face Scrub is enriched with 100% pure botanical extracts.
What is the Papaya Tan Removal Face Scrub price?
50gm of Papaya Tan Removal Face Scrub price is Rs.100/-
Show us some
on social media